<This post contains affiliate links so that the reader can easily locate the items mentioned in the article. Thank you>
WHAT IS A FLOWERING TEA?
You're a lover of tea and it is one of the great simple pleasures you look forward to each day, but perhaps you are not familiar with and have wondered "What is a flowering tea?".
If you happen to be in a rush, click here to see it now on Amazon ( and don't forget to come back later )!

Flowering tea is an astonishingly beautiful blooming tea art! Some refer to it as a display tea, a blossoming or blossom tea, a blooming or bloom tea, art tea, hand-tied tea (just to name a few) but all describing expertly hand-crafted bundles of fresh flowers and delicate, soft green or white tea leaves and buds skillfully sewn together by artisans into a particular shape.
When these lovely bundles are placed into a glass container, and hot water poured over them, 
they morph into an incredibly gorgeous display of flowers and leaves that will leave quite a lasting impression on everyone around.
And then, after being wowed by their elegant beauty, you get to savor the delicate and delicious brew.
So this is a fundamental answer to the question "What is a flowering tea?", but there is so much more to know!
Keep reading or if you're pressed for time, just click on what interests you most and jump right to it:
WHAT IS THE HISTORY OF THE FLOWERING TEA
In the furthest South-East region of China, 2,000 feet above the sea lies the magnificent Yunnan Province. It is this ancient land that gave us not only the highly regarded Pu-erh tea (as well as a few others) but also saw the birth of the beautiful flowering tea.
Unfortunately, its history is not precisely known or recorded, so we have to count on the stories handed down through word of mouth. Some say the first creation of flowering tea took place many hundreds of years ago.
This group claims that in the 10th century, beautiful displays were designed for the royal court's visual pleasure,  but not to for use as a beverage.  Maybe, it was just that the leaves used for the artwork at the time were not of the highest quality, and therefore no one wanted to drink them.
Then there are others that say that it is a thoroughly modern work of art. Being the romantic that I am, I will go with the "hundreds of years old" tale. After all, it makes perfect sense that something so mysterious and lovely would have quite a history!
HOW FLOWERING TEA IS MADE
In one particular method, Silver Tea Needles, which are only the single tip of the tea bush are carefully collected by hand from the many fertile tea terraces in the Yunnan Province. The leaves are sent off to be processed and dried in 230 degrees Fahrenheit ovens into loose leaf white tea.
Once they are ready, Chinese artisans take a specific amount of the long delicate leaves (they weigh them to keep consistency) and wrap them into small bundles with cotton cords. They sew by hand the different types of flowers used into and around the bunches of tea leaves. The more common kind of flowers may be carnations, marigolds, hibiscus, jasmine, globe amaranth, and chrysanthemums. Lilies, roses, and osmanthus. Whichever type of bulb or flowers used, you can rest assured that they are all food-safe flowers for your enjoyment.
The designs created can be anything from just one single lovely blossom emerging from within the tea leaves to beautiful fancy arches of small flowers or elaborate bouquets. Magical, mystical, aromatic creations such as this!
At times, if the flower or flowers used in the arrangements do not have a very noticeable scent or flavor, the artisan may infuse some flavoring (sometimes jasmine or rose) into the bundle. Whether they do or not, these are very delicately flavored teas usually using white, green, oolong, or black tea leaves as their base.
The next step is to wrap the bundle in a tightly bound cloth (again, food- safe) and placed in an oven for its second drying. This time at 190 degrees Fahrenheit. Then voila! They are individually sealed for freshness, ready for market, for purchase, and for our enjoyment, to be placed into hot water and given a chance to unfurl into the magnificent works of art that they are!
To further add to the romance of these creations, the skilled artisans that produce these beauties with such tremendous pride perceive that each one represents friendship, prosperity, a long life, harmony, and LOVE.
To prepare yourself tea using one of these exquisite works of art is to enjoy an elegant moment of serenity. Indeed, your senses will come alive! Sharing will make it even better.
Please be mindful that I have described one method used with silver tea needles. There are other methods as well as other teas used.
CAN YOU DRINK FLOWERING TEA & DOES IT HAVE ANY HEALTH BENEFITS?
One must love and be grateful to Flowering Tea not just for its intoxicating beauty, but also for all of the fantastic health benefits it provides us. YES, it can indeed be drunk!
10

 DELICIOUSLY HEALTHFUL REASONS TO DRINK FLOWERING TEA
1 – GREAT STRESS RELIEVER
We're all very familiar with the fact that the preparation of tea (of any type) is immediately a huge stress reliever. It's comforting ritual relaxing and calming to us.
Green AND white tea (commonly used in the creation of flowering teas) calms and balances our stress hormones due to the polyphenols and catechins contained. I'm going to just be referring to green tea for practical purposes, but know that white tea contains a similar nutrient profile to green tea.
Silently meditate as you behold the elegant unfurling of the leaves and flowers of your blooming tea and then gratefully sip the health it has to offer you.
2 – FLOWERING TEA – GOOD FOR YOU, YOUR HEART, AND YOUR BRAIN
Not just a myth! Clinical studies have confirmed that green tea can lower your bad (LDL) cholesterol and your triglycerides. With its amazing antioxidants, the most potent being EGCG (epigallocatechin gallate), it helps in the prevention of plaque accumulation in arteries known as atherosclerosis. Also, it gives your memory a helping hand.
EGCG (epigallocatechin gallate) has actually been well studied and researched. It is a powerful nutrient in green tea with metabolism-boosting properties. The Japanese have known of its ability to aid in weight loss for many, many years.
3 – YOUR SKIN WILL BLOSSOM AS BEAUTIFULLY AS THE FLOWERING TEA ITSELF
The polyphenolic compounds in green tea are lovely for your healthy skin! They help prevent collagen from breaking down,   keeping wrinkles and spots under control while also stirring up the production of new cells.
4 – BRING ON THOSE POWERFUL ANTIOXIDANTS
Green tea is blessed with an abundance of flavonoids and catechins which help to neutralize the free radicals in your body that love to run rampant causing inflammation, oxidative stress, and other chronic diseases. It is a significant source of help to the immune system!
 5 – FLOWERING TEA MAY HELP YOU BLOSSOM INTO A FITTER YOU
While a good quality green tea does contain less caffeine than coffee (24-40 mg per cup as opposed to coffee with 100-200 mg), it is still enough to act as a stimulant to help with fat burning and give you a bit of energy too. The caffeine and EGCG (an extremely potent antioxidant) can both compellingly affect your metabolism.
6 – BREATHE EASIER WHILE KEEPING THE BUGS AWAY
Sip a cup when you're congested and feeling under the weather and see how you quickly you feel the mucus in your lungs start clearing up, and inflammation soothed.
7 – WHO'D HAVE KNOWN IT HELPS OUR EYESIGHT TOO?!
If you drink a blooming tea which contains GLOBE AMARANTH as its flower, you will be boosting your eye health in the process. Globe Amaranth is rich in Vitamin A (necessary for sight health) and along with that and other active ingredients, can help with the prevention of macular degeneration. It can also delay the beginnings of cataracts by helping to get rid of oxidative free radicals that cause stress.
8 – ANYTHING TO WARD OFF CANCER!
The abundant amount of polyphenols (antioxidants) found in green tea have a profound effect on the reduction of inflammation in the body and help combat damaging free radicals.  Antioxidants neutralize oxidative stress in cells.  The ample amount of the natural antioxidant catechin, EGCG is significant in helping to ward off cell damage among providing other benefits.
9 – A SIMPLE MATTER OF HELPING DIGESTIVE ISSUES
The Marigold in a flowering tea is said to help with digestion as well as relieve stomach discomfort. Marigold helps with cramps, constipation, bloating, and gas.
Another beautiful little flower which aids with indigestion is the Chamomile.
And yet I've not seen it used in any of the flowering teas I've come across. I suppose if someone wanted to experiment with the crafting of their own creation, the Chamomile flower could be an option too, why not?
10 – AND IF HIGH BLOOD PRESSURE IS YOUR CONCERN
Try a flowering tea with Hibiscus. The Hibiscus Flower is known to help in reducing blood pressure and has a delicious, mild taste. Now, if LOW blood pressure is your issue, then stay away from this one, please.
Whether it's to shed a few extra inches, help to prevent cancer and heart disease, put a glow in your skin, give your immune system a powerful boost, or to enjoy a few moments of relaxation in their breathtaking beauty; you owe it to yourself to give these flowering teas a try.
And now when someone asks YOU "What is a flowering tea?", not only will you know but you'll also be prepared to introduce them to this beautiful and healthy flowering tea art!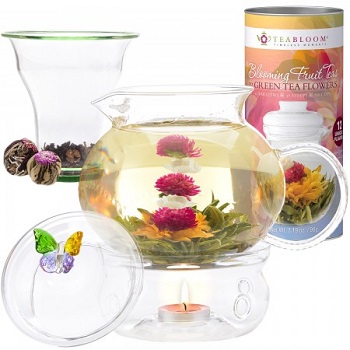 BEWARE OF POSSIBLE SIDE EFFECTS
Some of you may be concerned with any possible side effects from drinking flowering tea. Always consult a physician FIRST if you have any worries or concerns. 
Apart from the caffeine in the teas (which should not be a problem in moderation), some of the more commonly known types of flowers used in several of the creations may be a problem for you because:
OSMANTHUS – Should not be consumed by breastfeeding or pregnant women (FDA warning).
GLOBE AMARANTH – If you are allergic to ragweed, tumbleweed, common allergens in general; you might want to not experiment with this one because it is known to be highly allergenic.
MARIGOLD –  You'd have to really drink a huge amount, but Marigold could make you itchy, irritate your skin, make you a little light-headed, dizzy, and affect your breathing.
HIBISCUS –Helps to LOWER blood pressure, so don't risk it if you suffer from low blood pressure.
JASMINE – Unfortunately, some of us are allergic to Jasmine and could have a problem with contact dermatitis.    There is also a possibility of light-headedness, nausea, throwing up, and upset stomach.
LILY – Another flower I absolutely love, but its pollen could be problematic to some. There isn't too much of the pollen in a flowering tea (very small amount), but it could still trigger itchiness, sneezing, and trouble to breathe for some.